<!- box:side-1 -->
Students
Student News
Pre-School Program: GSA Lambs
Photo Gallery
Science Explorers Club
Musical Theatre
National Junior Honor Society
Gifted and Talented
Crochet Club
Anti-Bullying
Student Council
Junior Stewardship
Book Fair
Summer Fun Program
Student News
2018-2019
Pennies for Patients Program
Our students raised $1,674.00 for Pennies for Patients program and presented the check to Emily, a representative from the Leukemia and Lymphoma Society. Emily thanked everyone for their donation and helping people who are battling cancer.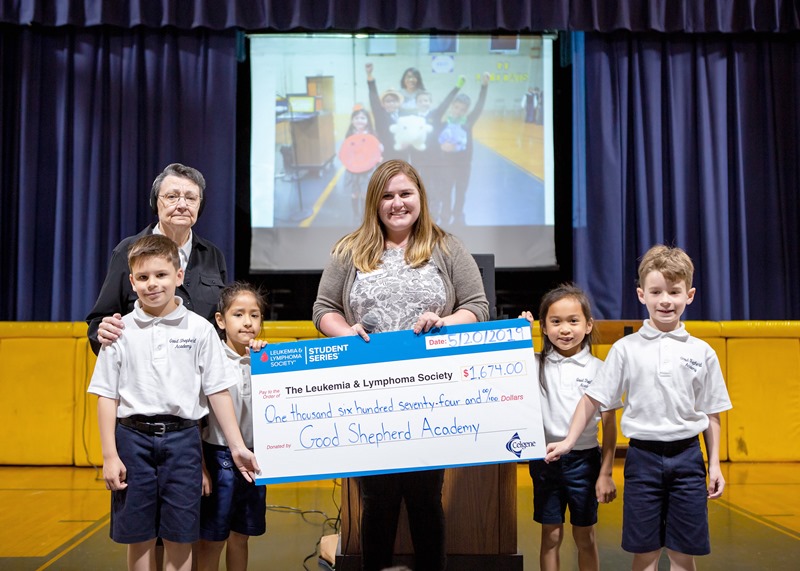 Outstanding Catholic School Graduate
Jake Grullon has been chosen as GSA's Outstanding Catholic School Graduate of 2019. This award is given annually on one 8th grader from each Catholic elementary school in the Archdiocese of Newark. Christian works hard academically and exemplifies Catholic values in word and deed.
Zaner-Bloser Handwriting Contest
Congratulations to the following winners: Kaylen Subbian, 3rd grade; Abigail Tan, 1st grade; Kelli Mitchell, 4th grade for the Nicholas Maxim Award; Heather Gennette Budez Godoy, 4th grade; Amaya Vargas, 2nd grade. Abigail has also won the State Level and now continues to the National level competition.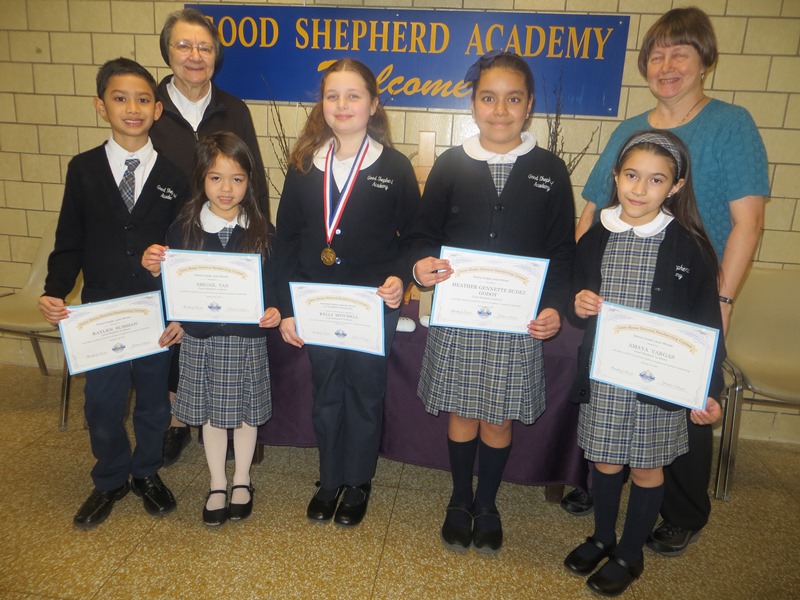 Students at the 12th Annual Enrico Tamburri Memorial Fund Beefsteak Dinner
On March 23rd, many gathered to celebrate the 12th Annual Enrico Tamburri Memorial Fund Beefsteak Dinner. Mr. and Mrs. Tamburri are a great role model who continue to spread joy and to help so many in our community. A special thanks to the Jr Stewards and post Confirmation group who gathered to support this event. Selena and Sabrina Kossup have been attending this event for many years along with many Holy Family parishioners. This year they lead the cultural dessert presentation which is one of the highlights of the evening as wonderful homemade desserts are on parade before being set on tables to enjoy.
Dance Program
Our Dance Program has been very successful since its start in 2016! Good Shepherd Academy students have the opportunity to join a wonderful program that builds friendships, strength, and discipline. This class introduces children in grades K-4 to Ballet and Jazz dance. The primary goal is to foster a love of movement and build self-confidence. Students learn proper dance technique as well as stage presence. If you love to dance and want to have some fun join the GSA dance Program!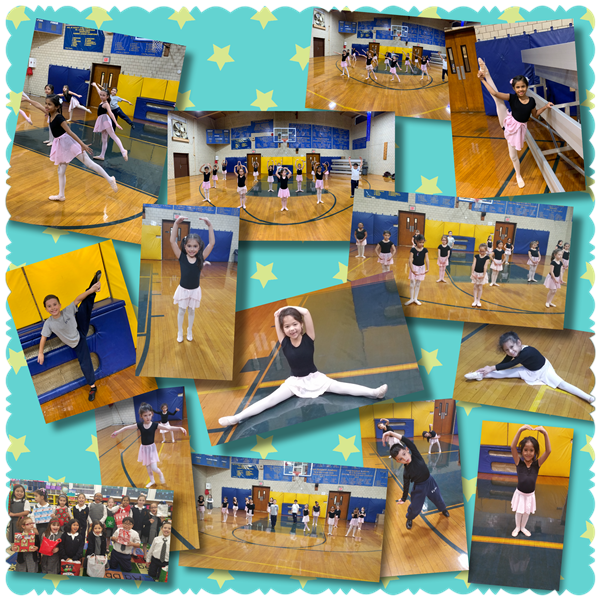 4th Grade Lent Project
As we begin Lent, the children in Mrs. Boyer's Fourth Grade Class are doing Acts of Kindness. Some examples are helping their Families, being nice to those that need to be included, contribute to the Rice bowl. Pair and share with their classmates to work as a "team." They are very excited about this activity and they will enjoy their accomplishments. Some of their ideas will be displayed on our Bulletin Board outside our room.
STEM Fair 2019
Our STEM Fair 2019 on Feb. 21 was a success! We want to congratulate all the students for their projects focusing on "Global Challenges, Local Solutions". Earlier in the day, Superintendent for Catholic Schools, Margaret Dames, Ed.D, Asst Superintendent of Bergen and Hudson County Elementary Schools, Sr. Marie Gagliano, MPF and Asst Superintendent of Curriculum, Instruction and Assessment, Ms. Barbara Dolan, visited and listened to the students explain their projects. Thank you to Mr. Jadran for his hard work and leadership in this event. Special congratulations to the winners:
6th Grade: Hannah Pollail, Catarina Pita, Antonio Velez and Monet Nikolic
7th Grade: Jake Santos, Daniel Diaz, Jacob Andrade, James Nugent and Christian Gonzalez
8th Grade: Emily Santos, Matthew Torres, Jonathan Zebaze, Brianna Santos and Nicolette Stefanelli
Visit our Photo Gallery for Pictures
Sheehan Scholarship Recipient
Eighth grader Jake Grullon is a recipient of the Sheehan Academic Scholarship and will be attending St. Peter's Prep in the Fall. The scholarship is awarded to the top 5% of the 800+ applicants this year. It covers the entire tuition for four years and funds participation in summer enrichment programs. Sheehan Scholars are selected based on the result of admissions exam, review of students' grades and through an interview process.

Jake was also offered a place in the Seton Scholar Program and the Presidential Scholarship from Seton Hall Prep and Bergen Catholic, respectively. Congratulations Jake!
1st Grade News
Yesterday Quiver farm delivered 12 eggs to both first grade classes. The students learned and got to meet a rooster (Tarzan) and hen (Jane). They learned the vocabulary for the incubator and the process of taking care of the eggs. If all goes well, there will be 24 baby chicks in the classrooms next week!!

Kindergarten News
Watch a video as they learn about Groundhog Day.
Click here
.
Learn why our Kindergarteners love grandparents and grandfriends.
Click here.
Catholic Schools Week Celebration
Open House - Opening Mass was held on Sunday, Jan. 27 to kick off Catholic Schools Week, followed by our Open House. Thank you to all the families who helped make our event successful. See Pictures.
Pennies for Patients - GSA is joining other schools in the country in raising funds for Leukemia and Lymphoma Society. Students were given cardboard bank to collect money throughout a three-week period. Additional information was also sent home. Our students enjoy helping this worthy cause and knowing they are changing the lives of others. See Pictures
Spirit Day - Students in blue and gold, celebrated Spirit Day with fun games and activities. See Pictures.
Mallory's Army - We welcomed Dianne Grossman and Mallory's Army to our school. This assembly was presented to our students in grades 5-8 in the afternoon and to our parents in the evening. The presentation was powerful and had an impact on both students and parents. The presentation eplained intention for good, gone bad, living a bracelet kind of life, and empowering the children to be the upstanders. Our students will leave kind words to their classmates on a Mallory's Army student designed bulletin board. See Pictures.
Jeopardy - The students in grades 3 through 8 competed in a Jeopardy-like game show. The winner from grades 3-5 was Ysabelle Frum and from grades 6-8 was Anthony Tarczynski. A fun time was had by all and we are proud of our winners. Way to go, brainiacs! See Pictures.
Grandfriends and Grandparents Day - GSA celebrates and pays tribute to grandparents/friends. They are a special gift in our lives and fill the world with love. We thank them for their support in everything we do. Thank you also to all the volunteers who helped us at the event. See Pictures.
8th Grade STEM Challenge
Mr. Jadran's 8th grade science class had a blast participating in the Igloo STEM Challenge this week! In this challenge, students had to build a dome shaped igloo model (with an opening to get in and out of) from only toothpicks and mini marshmallows. Students worked in groups and followed the engineering design process during this challenge: they made a plan and diagram before building, and then they built a prototype. After seeing what worked and what did not architecturally, students rebuilt their igloos and then reflected on the process.
Click here for more Middle School Science pictures.
American Legion Coloring Contest
Once again the Fourth and Fifth Grades at Good Shepherd Academy participated in the annual coloring contest sponsored by the American Legion, Nutley Post 70. Alyssa Seecharran, a Fifth Grader, submitted our school's winning entry. Alyssa received a certificate and a $25 dollar gift card to Barnes and Nobel.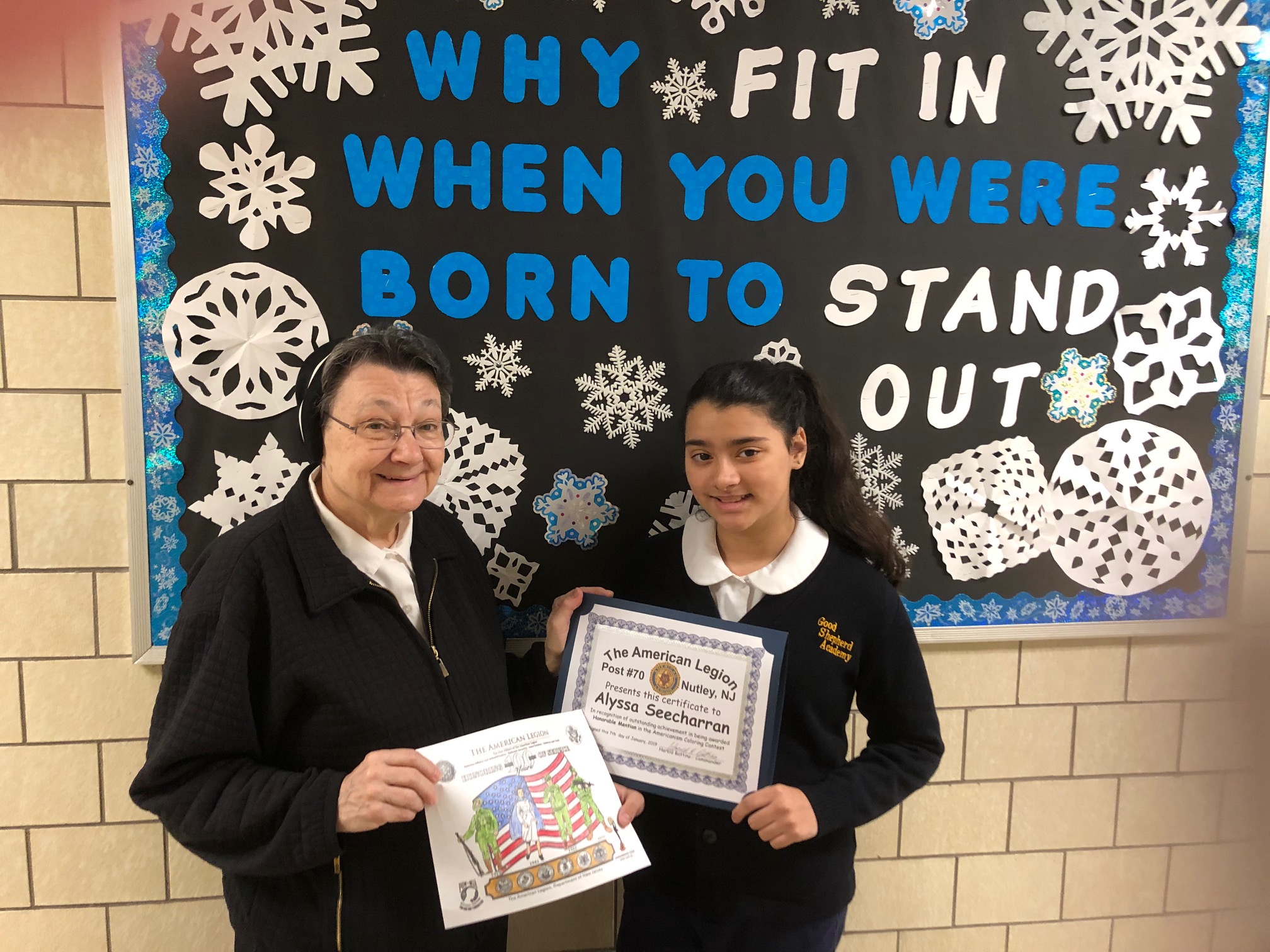 Grade 3A STEM Project
S.T.E.M. is in high gear in the 3A classroom! The students constructed their own gingerbread houses making sure to use knowledge-based learning (in Science, Technology, Engineering, and Math). Once the creations were finished, they all enjoyed a delicious piece of their hard work.
Click
here
for more pictures.
Book Fair and Hour of Code
"It's the Most Wonderful Time of the Year" in GSA's Instructional/Media Center! The Computer Lab/Library hosted two important events last week that combined both fun and learning – The Scholastic Book Fair and "The 'Hour of Code™'! See photos of our students using props at the Enchanted Forest Book Fair to get into the spirit of the theme.
The 'Hour of Code™' is a nationwide initiative by Computer Science Education Week [csedweek.org] and Code.org [code.org] to introduce millions of students to one hour of computer science and computer programming. Students from grades K – 8 enjoyed coding during their computer classes. It helps nurture problem-solving skills, logic, and creativity. Visit Photo Gallery for pictures.
Christmas Tree STEM Challenge
Mr. Jadran's 6th grade class had a blast acting as "engineers" while participating in the Christmas Tree STEM challenge! Students worked in teams to build a model of a Christmas tree using only gum drops and toothpicks. Prior to building their model, students had to draw a diagram of how they planned on constructing their tree, as well as estimate how many gum drops they thought they would use. To make the challenge interesting, the teams were given only 20 minutes to build their trees. After the building phase, each tree was tested on how it held up against wind (a blow dryer) and if it still stood tall with a star on top. Once the tests were complete, students reflected on the challenge, thinking about what worked, what went wrong, what they would do differently next time, and how their actual model differed from their plan. Aside from being a lot of fun, this challenge taught the students team work, as well as familiarizing them with the engineering design process!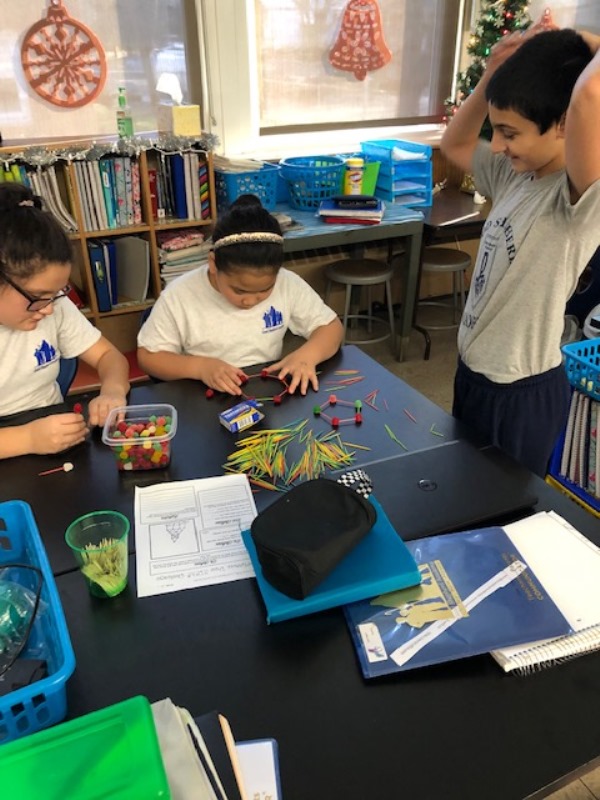 Learning Geometry
The 7th Grade Pre-Algebra Class is studying Geometry. They are working on different modes of Tetrahedrons and Icosahedras. These are very symmetric and are called Platonic Solids. The Ancient Greeks knew there were only fine possibilities for regular solids and they thought this was a surprising and delightful property of solid geometry. There is no substitute for hands-on learning and holding the model in your hands. The students have done well in understanding something at High School level. They will now be studying finding area using symmetry.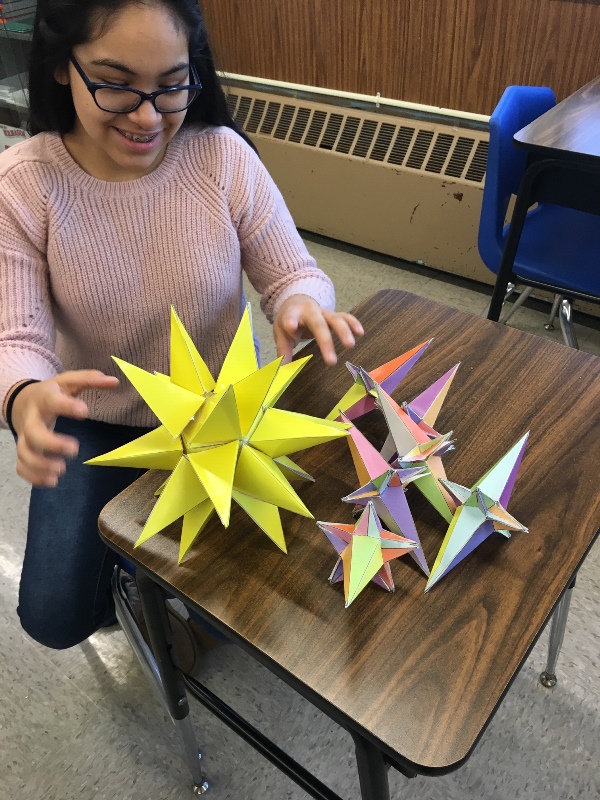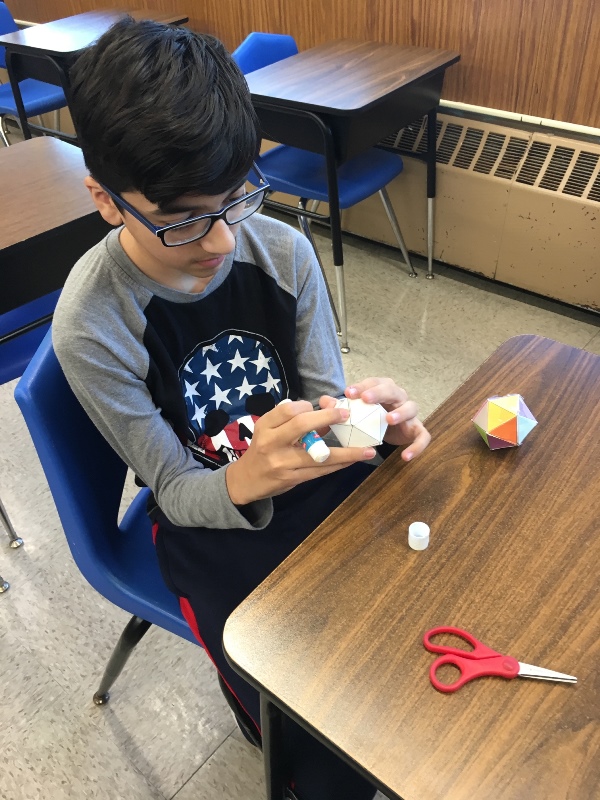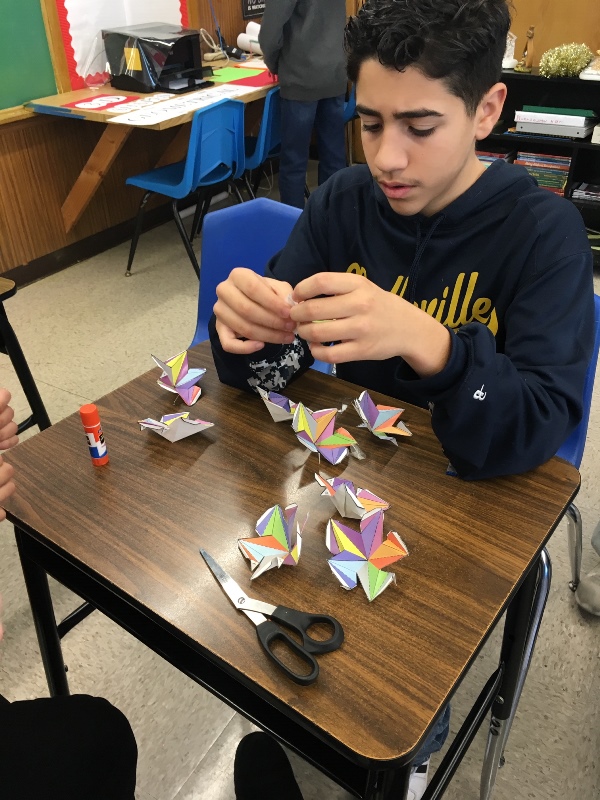 2nd Grade Happenings
The second graders in Ms.Corneliess's and Mrs. Alfano's class learned many things about Pilgrim boys and girls and about the First Thanksgiving. They read books and viewed videos about Pilgrim life. Then they wrote and illustrated what Pilgrim children wore, ate, what their chores were and what they did for fun.
Sumdog's Essex County Math Contest Results Are In!
In total, 228 students participated throughout the county and answered 44,711 questions correctly. Some of our students from grades 2 – 5 competed on their own time and placed in the top spots in this contest!
The top students are the ones which answered the most questions correctly throughout the contest. (1000 questions maximum) The top ten students (who were awarded a certificate and a NUT card) include:
1st place with 998 correct answers was Sharon Pinto, Grade
2nd place with 986 correct answers was Vivian Li, Grade 4
3rd place with 965 correct answers was Luis Santos, Grade 4
4th place with 956 correct answers was Noah Lopez, Grade 4
5th place with 945 correct answers was Gabriel Amparo, Grade 3
7th place with 931 correct answers was Jonah Pollail, Grade 2
8th place with 930 correct answers was Elizabeth Rasul, Grade 3
9th place with 919 correct answers was Alexa Falsetta, Grade 3
10th place with 918 correct answers was Nicole Vieira, Grade 2
Congratulations to everyone on all your hard work!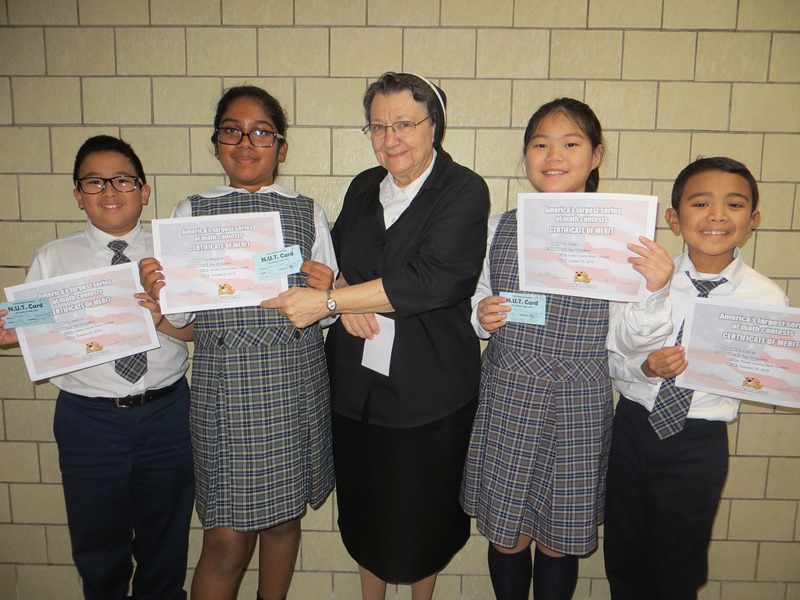 Fire Prevention
The Nutley fire department came to give us a demonstration of how they rescue people trapped from high places during a fire.
Middle School Science:
8th Graders
The 8th grade started off the school year by diving back into scientific thinking with Mr. Jadran. The students worked together in small groups, following the steps of the scientific method as they conducted a "paper towel absorbency" experiment. Each group was given 3 brands of paper towel (bounty, Costco, and a dollar store brand). Without knowing which brand was which, the students had to OBSERVE each brand of paper towel and HYPOTHESIZE which brand would hold the most water. Using a dropper, they conducted three trials for accurate results. After carrying out the experiment, the students analyzed their data and made bar graphs displaying the results. The experiment was a simple yet fun way for the students to ease back into thinking scientifically after the summer vacation.
7th Graders
On Friday, Sept. 21st, the 7th grade students were engineers for the day as they participated in their first in-class STEM challenge alongside Mr. Jadran. The students were split up into groups, where they had 20 minutes to build a bridge with only plastic straws, a piece of construction paper, and scotch tape. Each bridge was tested with a cup full of magnets - first 10, then 20, then 30, and finally 40 magnets. Whichever bridge was still standing was then given the ultimate test - the weight of a textbook! The students had a blast working together during this challenge. Not only did they learn about bridge engineering and teamwork, but they had a fun time while doing so (and what more could we ask for as teachers and parents?!)
6th Graders
The 6th graders participated in a "DNA Monster Mash-up" just in time for Halloween. The students have been learning about DNA, genetics, Punnett squares, and dominant and recessive traits in science class for the past few weeks. For this activity, Mr. Jadran's class combined what they have been learning with some creativity and fun. Students were given a chart with both dominant and recessive traits for their offspring monster, and they flipped coins to determine which traits both the mom and dad monster would have (example: round shaped monsters were dominant while triangular shaped were recessive). After figuring out the different traits, students put their science skills to the test and created Punnett squares to determine which traits would show in their offspring. Finally, they created their DNA monsters based off of the traits that would be shown. This was a great way for students to practice what they have been learning while also having a blast!
On Friday, October 26, Mr. Jadran's 6th grade class participated in a fun science activity just in time for Halloween. Students inflated balloons using water bottles and specific amounts of baking soda and vinegar. The students were re-familiarized with the reason behind why baking soda and vinegar react (because of an acid-base reaction, baking soda being a bicarbonate and vinegar being an acetic acid). To add a Halloween aspect to the experiment, spooky faces were drawn onto the white balloons.
Click here to view Middle School Science pictures.
2017-2018
Sea Turtle Recovery Presentation
First through third graders were treated to a wonderful presentation by Ms. Brandi Biehl and Erica from Sea Turtle Recovery on Monday, June 4th. This non-profit organization is dedicated to the rehabilitation, preservation and conservation of sea turtles and is located within Essex County's Turtle Back Zoo. The students had already been introduced to sea turtles via library books/classes and the after-school Science Explorers Club. The representatives from Sea Turtle Recovery showed a slide & video presentation and talked about the many ways in which they treat, release and protect sea turtles. They brought equipment to demonstrate how to measure turtles and how they tag them as well. The students and teachers also participated in a question and answer session. You can check out their website or make donations to their organization at seaturtlerecovery.org.
Click here to view presentation pictures.
STEM Fair
Our annual STEM Fair was held on Wednesday, May 30 in the GSA gym. It was another huge success. Thank you to Mr. Pignataro for his hard work on this educational event. Congratulations to all the participants and winners!
Elementary School Division
3rd Place - 5J: Noah Esposito (Homemade Water Filter)
2nd Place - 6G: Kayla Davila, Courtney Peloso; Christina Zamora (Light-Tracking Bristlebot)
1st Place - 6M: Daniel Diaz, Jake Santos; Joseph Springsteen (Pulley System Go-Kart)
Middle School Division
3rd Place - 7A: Brianna Santos; Emily Santos (What type of soil is strongest to support a building?)
2nd Place - 7P: Nicolette Stefanelli (Ultraviolet Light)
1st Place - 8E: Dominic Chu; Jeremy Mata (Bridge Tension)
Visit our photo gallery for event pictures.
Frog Dissection
Our middle school students performed frog dissection today! The procedure gave a good overview of the organ systems of a complex living thing. There's a magic that happens when you have the perfect combination of learning and doing – who wouldn't remember the amazement of holding intestines while learning about what they do? Click here for more pictures.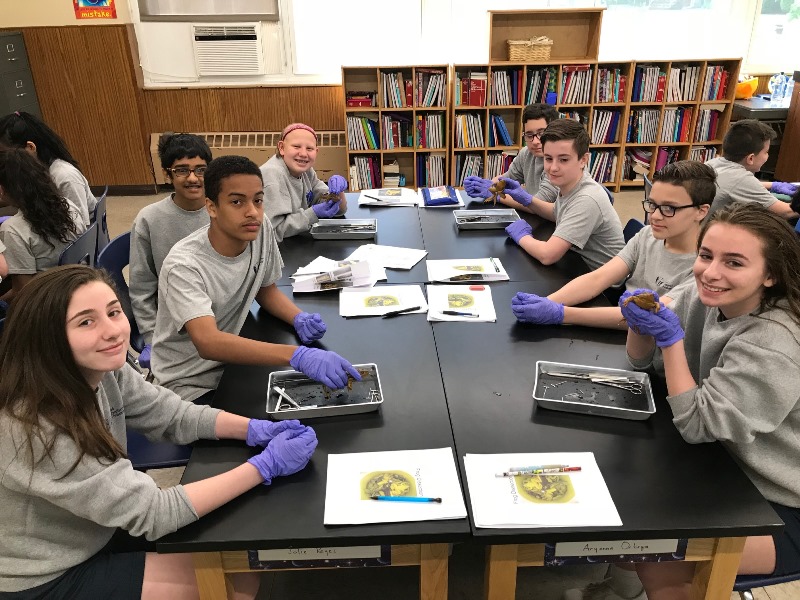 Third Graders Environment Project
"Producers, consumers, decomposers, oh my!!" 3A put together an example of an environment containing "dirt", "worms", "grass", and "animals" -- all edible, of course!
Click here for more pictures